When it comes to setting inventory policy, do you guess? Most companies do, but most believe they don't. Typical guesses are 2 weeks' supply or 2 months' supply. Sound familiar? These are called fixed time supplies, and fixed time supplies are guesses. The truth is, you don't have to guess! You can actually know the relationship between inventory policy and customer service. What does that mean? It means you can determine the inventory required to achieve your customer service target. Or, given an inventory budget, you can determine what level of customer service it will buy.
If you are currently guessing, then using the right method will give you some valuable benefits: (1) higher customer service, (2) significantly lower inventory (typically a 30% or greater reduction), and (3) less expediting.
We will start with a brief Vocabulary Review. Then we will look at three methods for calculating safety stock: Fixed Time Supply, Equal Service, and Optimization. Lastly we discuss alternatives when service requires an inventory which is over budget, looking at the effects of forecast error, service level, lead time, and replenishment frequency.
Vocabulary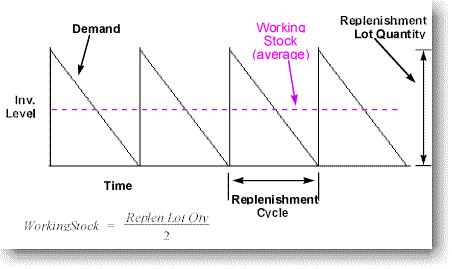 The inventory planning concepts relevant to this discussion include both working stock and safety stock, but primarily the latter. Working Stock is inventory that is the result of having to make products in batch sizes greater than one. There is much in the literature (see References) about using Economic Order Quantity techniques to achieve the optimum working stock. You can estimate the working stock to be one half the normal replenishment lot quantity, since actual working stock will vary between zero and the lot size, but over time will average one half the lot size.
We will be primarily concerned with Safety Stock, which is stock kept in anticipation of a less-than-perfect forecast. If the forecast error or lead time were zero, there would be no need for safety stock. It is the safety stock which allows you to achieve a particular level of customer service, even though there are errors in the forecast.
The expected stock on hand over time is the sum of the working stock plus safety stock. Though we want to minimize this total (while still achieving our service objectives), we will concentrate in this paper on the safety stock. We do this for two reasons: first, the working stock decision is significantly easier to make and there is much in the literature which covers it adequately; second, for many companies the safety stock makes up the majority of the expected stock on hand.
Customer Service Level is the measurement that shows what percentage of the desired stock was delivered to the customer. There are many ways to measure this. For example, if customers order $1,000 worth of product and you were able to ship only $950 of that, that is 95% dollar fill service. If the demand was for 100 cases of product and you shipped 90, that is 90% case fill. If there were 100 line items (i.e., line items on orders from customers) and you could ship 85 of those lines complete, that is 85% line item (or transaction) fill. If the demand came from 10 customer orders and you could fill only 8 of those orders completely, that is 80% order fill. If the total units ordered equaled 200, but you had only 150 units in stock, that is 75% unit fill. If the total weight ordered was 5,000 pounds, but you could ship only 3,000 pounds from stock, that is 60% pound fill.
Which of these should you use? Ideally, you want to crawl inside your customers' heads and discover what is most important to them. If your customer has a computerized vendor performance system which measures line item fill, then you want to provide the highest line item fill which is consistent with your inventory budget. In this case you don't have to concern yourself with your case, unit, pound, or order fill rates (unless your customer is monitoring those as well).
Two measures of "customer service" don't actually relate to your customer's satisfaction, but do assist you internally in managing your inventory and scheduling your production and/or purchasing. One is called profit fill. If you have customer orders for products which yield $1,000 of profit, but the products you could ship from stock yielded only $700 of profit, then that is 70% profit fill. Maximizing your profit fill means you will get the highest profit possible from any given inventory level. Of course, if you shorted your customer on a critical part, he's not going to care that it was the least profitable part for you of all the things he ordered.
Finally, let's consider lot fill. Suppose you have 1,000 manufactured or purchased lots being delivered to stock each year. If 900 of those lots arrive while there is still stock on the shelf (the other 100 arrive after you have run out) that is 90% lot fill. What good is that? Think of it from an expediting pressure point of view. Ninety percent of the time, there will be no panicked telephone calls asking you to expedite the particular lot. On 10% of lots you may get phone calls. If you can expedite the lots (i.e., get them in in less than normal lead time) you could provide 100% service (by any measure) while only paying for the inventory required to achieve 90% lot fill. As you will see below, the inventory otherwise required to boost service from 90% to 100% can be huge, so a little expediting can go a long way to reducing your inventory.
Three Methods for Setting Inventory Targets
We will look at three ways to do this: (1) Fixed Time Supply guess, (2) Equal Service, and (3) Optimization. Only the latter two actually work; i.e., they compute the inventory you need to meet your service target. The fixed time supply method is actually a guess and the resulting service and inventory are only incidental to the process. It is a great way to achieve low service with high inventory, if that is your goal!
Method 1: Fixed Time Supply Guess
Part

Cost

Forecast Usage/Month

A

$ 1.00

2,000

B

$ 1.00

2,000

Figure 1
Simply stated, the problem is to determine how much safety stock is required to achieve a desired level of customer service. Starting with an example so simple that we can work without a computer, consider the situation in Figure 1, which has information on a two-item product line.
Since each part costs $1.00, we can work with dollars or units interchangeably. Suppose you want to know how much safety stock is required to give 95% customer service. Most companies, when faced with this question, handle the situation by educated guessing. If service is too low, say 90%, and finished goods safety stock last year averaged six weeks, they may decide to increase it this year to perhaps two months. In reality, there is not enough information provided about this product line to make any decision.
Let's provide some additional information and see if we can do better. (See Figure 2.)
Part

Cost

Forecast Usage/Month

95% Confidence Limit

2 Month Safety Stock

A

$ 1.00

2,000

+/- 200

$ 4,000

B

$ 1.00

2,000

+/- 6,000

4,000

Total

$ 8,000

Figure 2
Now parts A and B no longer look identical in all respects—in fact their forecasts are very different. The forecast for part A, with 95% confidence, is between 1,800 and 2,200 pieces per month. B's forecast, with the same confidence, is between net returns of 4,000 (zero if returns are not possible) and 8,000, but with a most likely value of 2,000. Clearly, different measures are justified for the two parts! In fact, since the given forecast confidence interval just happens to match our desired service level, the correct safety stock is simply the same value as the confidence limit. (See Figure 3.)
Part

Cost

Forecast Usage/Month

95% Confidence Limit

2 Month Safety Stock

Correct Safety Stock

A

$ 1.00

2,000

+/- 200

$ 4,000

$ 200

B

$ 1.00

2,000

+/- 6,000

4,000

6,000

Total

$ 8,000

$ 6,200

Figure 3
This safety stock achieves your objective of 95% customer service, but at a cost of almost 25% less than the two month safety stock. What happened to customer service in the meantime? Consider the two parts individually.
Part

Cost

Forecast Usage/Month

95%Confidence Limit

2 Month Safety Stock

Service with 2 Month SS

CorrectSafety Stock

Service with Correct SS

A

$ 1.00

2,000

+/- 200

$ 4,000

100%

$ 200

95%

B

$ 1.00

2,000

+/- 6,000

4,000

60%

6,000

95%

Total

$ 8,000

80%

$ 6,200

95%

Figure 3a
For part A, the two-month supply is 20 times more than necessary. So the service is something higher than 95% (most likely 100%) and now drops to exactly 95%. For part B, the two-month supply is only two-thirds enough to reach 95% customer service. The information provided is insufficient to tell precisely, but it is safe to assume that service was substantially below 95%; we'll estimate it at 60%. This means aggregate service was only 80%. So you have a choice of 80% service at a cost of $8,000, or 95% service (the target) for $6,200. Tough decision!
Fixed Time Supply Guesses Do Not Work
One concludes two things from this: (1) it is indeed possible to raise service at the same time you reduce inventory; and (2) fixed time supply guesses do not work. You pay too much in inventory for service that falls short of your objectives. Safety stock, whose purpose is to cover errors in the forecast, must be set according to the size of the errors—not according to the size of the forecast. Why do most companies use fixed time supply guesses? Because they are easier to understand and easier to compute. Unfortunately they do not do the job.
The reason this works with such dramatic result is that most forecast errors are distributed according to the normal error distribution. In layman's terms, this means there are usually a large number of small errors and a small number of large errors. Setting safety stocks using a fixed time supply results in too much inventory for most items (the ones with the small errors) and too little inventory for a few items (the ones with the large errors).
The Need For A Computer
Most of us have far more than just two products, and management never seems content with a single level of customer service. When told that 95% service can be obtained for $6,200, the response is frequently either "How much would 97% cost?" or "How much service could I get for $5,500?" For answers to both of these questions, or when you have many products, you need to get a computer involved. A computer, using the methods described in Reference 1, can evaluate any customer service level for any number of products.
The Sample To Be Analyzed
To keep things relatively simple, we'll look at a sample of four parts drawn from an actual service parts environment, which is the most difficult application from a forecast accuracy point of view. The demand and forecast errors are real. The four parts have an annual volume in excess of $20 million. Current customer service is 96.4% dollar fill, while our service target is 98% dollar fill. Safety stock to achieve this service has been set initially to a 52-day fixed time supply guess, or just over $4 million. Working stock for these parts has been set initially to a half month supply; i.e., all four parts are replenished once per month.
Part

Safety Stock in Units

Safety Stock in $ Std Cost

Safety Stock in Days

$ Fill Service

A

283

2,711,666

52.0

99.9%

B

284

365,142

52.0

60.4%

C

1,562

514,576

52.0

100.0%

D

1,945

479,558

52.0

99.9%

Total

$ 4,070,942

52.0

96.4%

Figure 4
For most of our work we will let the computer evaluate the formulas for each individual part, but only display the aggregate values across all the parts. Initial details for the parts are shown in Figure 4.
While inventory is a constant 52 days for each part, service varies wildly from far above our 98% target for 3 parts and only 60% for one part. Calling the aggregate service 96.4% hides multiple sins here. It's like the fellow with his feet frozen in a block of ice and his head in a hot oven—on the average he's at room temperature, but comfortable? No.
Evaluate Using Fixed Time Supply
Since we started with Fixed Time Supply, let's use this method to examine the service available when inventory varies from 20 to 90 days.
----------Investment----------

----------Service----------

(Safety Stock)

$ Value

Percent

Dollars

Weeks

Days

Backorders

$ Fill

Projected:

1,565,747

4.0

20

2,669,713

86.9

1,987,294

5.1

25

2,009,119

90.1

2,408,841

6.2

31

1,556,321

92.4

2,830,388

7.2

36

1,243,885

93.9

3,251,936

8.3

42

1,022,904

95.0

3,673,483

9.4

47

859,918

95.8

4,095,030

10.5

52

733,282

96.4

4,516,577

11.5

58

629,819

96.9

4,938,124

12.6

63

542,042

97.3

5,359,672

13.7

68

465,930

97.7

5,781,219

14.8

74

399,341

98.0

6,202,766

15.8

79

340,970

98.3

6,624,313

16.9

85

289,873

98.6

7,045,860

18.0

90

245,346

98.8

Current:

4,070,942

10.4

52

739,800

96.4

Figure 5: Fixed Time Supply Between 20 and 90 Days' Supply
Here we see that 20 days' supply buys 86.9% aggregate dollar fill, while 90 days' supply buys 98.8%. Let's look at 98.0% (our target) which with this method costs $5.8 million in inventory. While the service is 98% in the aggregate, the details show a very different picture.
Part

Safety Stock in Units

Safety Stock in $ Std Cost

Safety Stock in Days

$ Fill Service

A

401

3,850,889

74.0

100.0

B

403

518,540

74.0

78.1

C

2,219

730,760

74.0

100.0

D

2,762

681,029

74.0

100.0

Total

$ 5,781,219

74.0

98.0

Figure 6: Details for 98% Dollar Fill Using the Fixed Time Supply Method
While the inventory is a constant 74 days' supply, the service is either wonderful or awful, but the aggregate is 98%. Since our aim is consistent service, not consistent days of inventory, we need to do something different.
The Shape of the Curve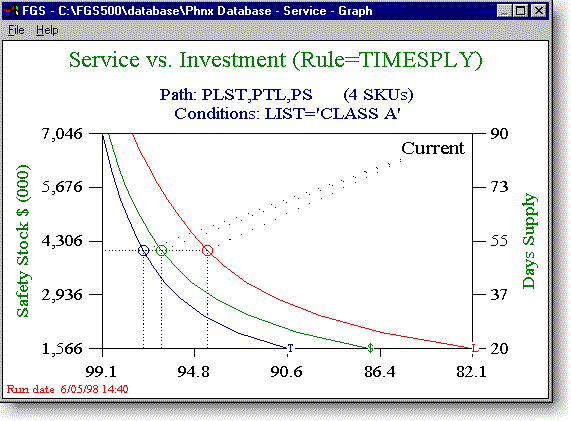 Let's go back to the evaluation in Figure 5 and graph the information in the table.
There are three measures of service graphed above, but the green curve is the dollar fill measure we have been examining. Notice that as service approaches 100% the cost to achieve it increases exponentially, while as service drops below 90% the cost flattens out. Notice also that the current position (marked by the green circle) shows the service and inventory intersecting exactly on the curve. This is to be expected as we used a 52 day fixed time supply guess to compute the initial inventory levels.
This example illustrates one of the principles of setting finished goods safety stock: more service is more and more expensive. For example at the low-service end of Figure 5, increasing safety stock by $0.4 million from $1.6 million to $2.0 million buys an increase in service of 3.2 points, from 86.9 to 90.1. Yet at the other end, increasing safety stock by $0.4 million from $6.6 million to $7.0 million buys only an additional 0.2% service (98.6 to 98.8). At the high end of the service range, very small changes in service are accompanied by very large swings in requisite safety stock. At the low end, very small changes in safety stock cause very large swings in customer service.
In practice, there are a couple of ways you can make this work for you. If you need high service, say 98 to 99%, but either will suffice, setting service at 98% rather than 99% can save you a substantial percentage of your safety stock. On the other end of the service spectrum, if you have a product line for which you feel you can only afford 85% service, you may find a very small percentage increase in safety stock is required to give you 90% service or more—a change that customers are far more likely to notice.
Method 2: Equal Service Method
In Figure 6, the 98% aggregate service—while arguably better than the aggregate 96.4% we started with—varies wildly. What we want is service that is consistently at the 98% target for every part. The method which does that for us is called the Equal Service method. Let's look at a service range from about 86% to 99.9% dollar fill.
----------Investment----------

----------Service----------

(Safety Stock)

$ Value

Percent

Dollars

Weeks

Days

Backorders

$ Fill

Projected:

1,407,607

3.6

18

2,907,125

85.7

1,488,855

3.8

19

2,689,768

86.8

1,576,083

4.0

20

2,470,675

87.9

1,670,447

4.3

21

2,249,495

88.9

1,773,449

4.5

23

2,025,868

90.0

1,887,082

4.8

24

1,799,470

91.2

2,014,056

5.1

26

1,570,083

92.3

2,158,177

5.5

28

1,337,743

93.4

2,324,990

5.9

30

1,103,000

94.6

2,522,992

6.4

32

867,437

95.7

2,766,139

7.1

35

634,602

96.9

3,080,068

7.9

39

411,663

98.0

3,525,358

9.0

45

211,369

99.0

4,810,481

12.3

61

27,060

99.9

Current:

4,070,942

10.4

52

739,800

96.4

Figure 8: Equal Service Rule From 86% to 99.9% Dollar Fill
While this method does, in fact, insure that all parts in the group get equal service, it also sets the inventory targets based on the error in the forecast, not the size of the forecast. The efficiency gained is astounding. Notice, for example, that 99.9% service costs just $4.8 million in inventory here, while using the fixed time supply method it required over $7 million to achieve 98.8%. If we graph the service/inventory tradeoff curve we see something quite interesting.